Summerhouses
We offer a large array of summerhouses, with alternative door and window designs also available on most models.
All of our summerhouses are made from a thick shiplap cladding and hardwood doors with safety glass.
If you cannot find what you are looking for please ask, most things are possible.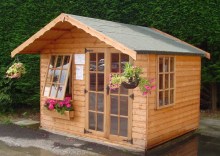 Apex roof summerhouse
Thicker than average tongue & groove shiplap, including floor and roof
Decorative hinges and handle
Joinery quality hardwood double door with mortice lock
Joinery quality hardwood opening windows
600mm roof canopy
Three opening windows, one window box
Toughened glass as standard
Optional; verandah, felt tiles
Treated in Albany brown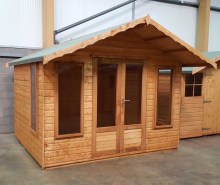 Apex roof summerhouse
Thicker than average tongue & groove shiplap, including floor and roof
Joinery quality hardwood double door with mortice lock
Joinery quality hardwood opening windows
600mm roof canopy
Three opening windows
Toughened glass as standard
Optional; verandah, felt tiles
Treated in Albany brown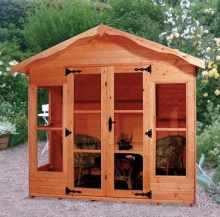 Apex roof summerhouse
Thicker than average tongue & groove shiplap, including floor and roof
1.8m eaves height
Joinery quality hardwood double door with mortice lock
Large amount of windows allows plenty of light
300mm roof canopy
Toughened glass as standard
Treated in Albany brown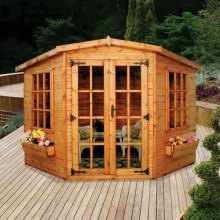 Corner summerhouse
Decorative hinges and handle
Thicker than average tongue & groove shiplap, including floor and roof
Joinery quality hardwood double door with mortice lock
Joinery quality hardwood opening windows
Two window boxes
Toughened glass as standard
Treated in Albany brown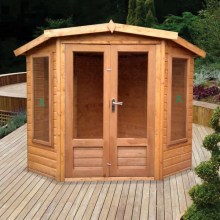 Corner summerhouse
Thicker than average tongue & groove shiplap, including floor and roof
Joinery quality hardwood double door with mortice lock
Joinery quality hardwood opening windows
Toughened glass as standard
Treated in Albany brown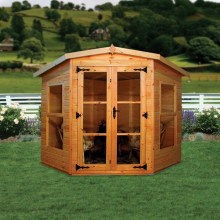 Corner summerhouse
Thicker than average tongue & groove shiplap, including floor and roof
Joinery quality hardwood double door with mortice lock
Top window on each side is opening
Toughened glass as standard
Treated in Albany brown