Standard Garden Sheds
Although standard for us, this range is excellent value for money and offers more choice and a higher specification than many other manufacturers.
All models are manufactured from tongue and groove shiplap with 45 x 34mm framing - THICKER THAN AVERAGE
All models are an all timber construction with NO CHIPBOARD or OSB which many other companies use. This increases the lifespan of our sheds.
Pent roof models are available in 10 different door and window options.
Windows are beaded not just pinned and can be fitted to either side of the shed or supplied without windows. 
Doors come with three hinges, a lock and key and hinged on the left, but can be supplied on the other side.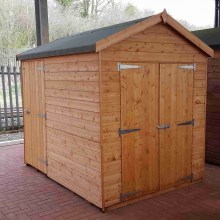 Tongue and grooved shiplap, including floor and roof
1.2m wide double door on end to access approx. 1.8m x 1.3m section on 8x6, or 1.8 x 1.9m section on 10x6
0.79m wide single door on left-hand side to access approx. 1.8m x 1.0m section
No windows
Double doors can be fitted to 8'x 6' and above
Treated in Albany brown
Available in two sizes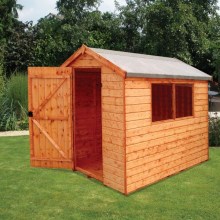 Best selling apex roof shed
Tongue and grooved shiplap, including floor and roof
Fully framed and braced door with three hinges
Glass windows
Window section can be fitted on either side
Double doors can be fitted to 8'x 6' and above
Treated in Albany brown
Available in a variety of sizes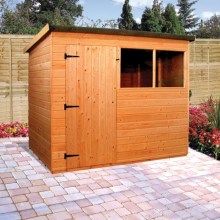 Popular pent roof shed
Tongue & grooved shiplap, including floor and roof
Fully framed and braced door with three hinges
Glass windows
Available in numerous configurations- please specify door position on order
Treated in Albany brown
Available in a variety of sizes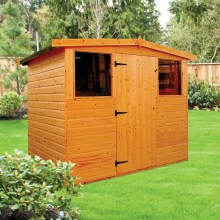 Transverse apex roof shed
Tongue and grooved shiplap, including floor and roof
Fully framed and braced door with three hinges
Glass windows
604 and 705 models come with one window and an offset door (door on left as standard)
Please note windows are now positioned one board lower than the door
Treated in Albany brown
Available in a variety of sizes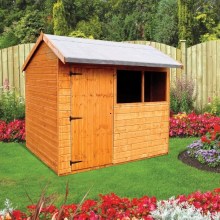 Offset apex roof shed
Tongue and grooved shiplap, including floor and roof
Fully framed and braced door with three hinges
Glass windows
300mm roof overhang
Door on left and windows on right as standard
Please note: in order to fit under roof overhang, door height is lower than standard
Treated in Albany brown
Available in a variety of sizes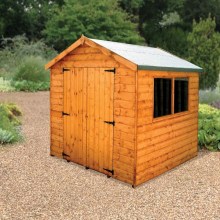 Apex roof shed with double doors
Tongue and grooved shiplap, including floor and roof
Fully framed and braced door with slide bolt
Glass windows
Window section can be fitted on either side
Treated in Albany brown
Available in a variety of sizes